Archdiocese of Indianapolis The Criterion article featuring Mrs. Heckman (3/26/20)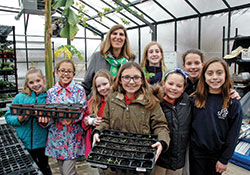 By John Shaughnessy
COLUMBUS—Helen Heckman smiled often as she helped 10-year-old Evan King create the beginning of a Resurrection Garden—using potting soil, grass seed, a small stone, a tiny clay pot, white string and broken branches from a nearby tree.
Part of the reason the principal of St. Bartholomew School in Columbus smiled on that early March afternoon was because she loves how the school's outdoor learning lab offers students the opportunity to connect their faith to nature.
Then there were the moments when she was smiling just because of Evan's infectious combination of joy, energy and sincerity—a combination that shined through as the fourth-grade student described Heckman, who recently received national recognition for her dedication and commitment to excellence in Catholic education.
"She's awesome! She's a really good principal. She cares about God and all the students. She's interested in you. She doesn't let you give up. When you're feeling down, she lets you know you can talk to her. She doesn't let you feel alone."
Evan paused briefly before asking, "Do you need anymore?"
As wonderful as Evan's praise is, it's just part of the story about Heckman.
The connection between growth and faith in the Resurrection Garden reflects the same approach that she has had for St. Bartholomew School since she became its principal in 2013.
Since then, the school's enrollment has grown from 341 students to 403. And the number of Hispanic students has increased from 11 percent of the school's population to 38 percent.
Still, for Heckman, the most important growth has been in the school's ever-increasing commitment to have students learn and live the Catholic faith.
Creating 'Catholic memories'
"We've definitely focused on the Catholic school part, making sure our students understand what it means to be Catholic and to have 'Catholic memories' of what we did—having a May crowning ceremony, going to the Stations of the Cross during Lent, focusing on service projects throughout the year," she said.
"We want them to grow in mind, body and spirit. We want them to grow in their faith and their relationships with people."
At the same time, St. Bartholomew has been consistently recognized as an "Indiana 4-Star School" by the state's Department of Education.
All these avenues of growth, faith and success have led Heckman to be honored with a 2020 "Lead, Learn, Proclaim Award" from the National Catholic Educational Association (NCEA), for her dedication and commitment to excellence in Catholic education. She was chosen from more than 150,000 Catholic teachers and administrators across the nation.
While Heckman appreciates the honor, she also said, "That's not my award. For a principal to win the award reflects on the entire school community. I share it with everyone here."
Members of the school community were just as quick to praise her.
"Under Mrs. Heckman's leadership, our teachers, assistants, staff and volunteers are striving to do more than just teach a body of religious truths," noted Claudia Jackson, a parent and past president of the school's parent-teacher organization. "She understands that what is important is to cultivate faith in the hearts of our students."
Citing how the school has students from Asia, Europe and several Spanish-speaking countries, Father Clem Davis said he's impressed by the welcome Heckman extends to families of different cultures.
"When I come into the building, I see learning going on, but it feels more like family than just a schoolhouse," noted the senior associate pastor of St. Bartholomew Parish. "Seeing Helen interact with the students at their distinct levels of development, I am sure that she has set the tone."
'You can help the world grow'
To help create that sense of welcome at the school, Heckman has hired numerous bilingual staff members. She has also stressed professional development
for teachers in the area of cultural
awareness. And because of her leadership, St. Bartholomew was one of the first five schools chosen for the archdiocese's Latino Outreach Initiative through the Office of Catholic Schools.
"It's not just about welcoming people, whatever their cultural or ethnic background may be," said Heckman, a mother of three grown sons. "It's to better serve them, to be more supportive of their families."
Heckman does that and more, said Diana Graman, a faculty member at the school: "She has implemented an after-school, homework-help program for those students who do not have assistance at home. She partnered with our PTO to help build an outdoor learning lab so that all types of learners may be reached. This lab has allowed different students to shine as well as connect to the beauty of nature."
Fourth-grader Mahala Ross shared a common student attitude toward the outdoor learning lab: "It's fun being outside, and you can help the world grow—and have fun with your friends."
Heckman savored that joy as she watched the members of the school's horticulture club create their Resurrection Gardens.
"To me, the whole idea is to enjoy all the gifts God has given us in nature—and to take care of the environment to make it beneficial for the future," she said. "It goes along with our Catholic social teaching about care for creation."
Her emphasis on faith extends to her own growth as a person.
The roots of her Catholic faith include her childhood as a student at Little Flower School in Indianapolis. She's also a 1981 graduate of Father Thomas Scecina Memorial High School in Indianapolis. And she and her husband of 32 years, Chuck, were married in St. Therese of the Infant Jesus (Little Flower) Church in Indianapolis.
"Every important moment in my life has been in a Catholic school or church," she said.
And still she keeps trying to grow in her faith.
"As a principal, I've tried to focus more on my Catholic faith, and be an example for my staff—reading Scripture daily, praying together with staff and parish staff, and getting more involved with service projects. In faculty meetings, we've concentrated on learning about the Mass and Catholic social teaching.
"It's just trying to make sure the school community knows we are a Catholic school—and that it's important to us." †