The Criterion: Faith guides Catholic schools…
Faith guides Catholic schools amid the anxiety of a year marked by a pandemic
https://www.archindy.org/criterion/local/2020/08-28/schools.html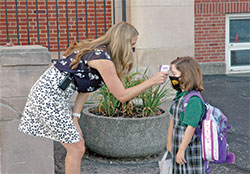 By John Shaughnessy
In many ways, it seemed so normal for a first day of school.
A long line of cars and vans formed in the drop-off area.
Parents, including a few who wiped away tears, told their children they loved them—and then lingered to watch them walk toward the school's entrance.
Students slung their new backpacks over their shoulders, some of them rushing toward school as if they had just been given an all-you-can-eat ticket to a concession stand while others trudged along—all of them being greeted by name by an enthusiastic educator who exclaimed, "This is the best day ever!"
It certainly was the most unusual first day ever at Christ the King School in Indianapolis on Aug. 20. As one of the last Catholic schools across the archdiocese to start classes this year, Christ the King joined the other 67 schools in this "new, nervous normal" era of learning amid the coronavirus
This "new, nervous normal" era was on full display in the Christ the King parking area on its first day of school—where educators took the temperature of each student before allowing them in the school, where the same enthusiastic young woman who exclaimed, "This is the best day ever!" then told the children, "Grab your hand sanitizer inside!" and where everyone wore masks, including the parent dressed as a tiger—the school's mascot.
With the school year now underway in all Catholic schools across the archdiocese, The Criterion asked four principals to share their insights on the new reality of educating children and youths in the Catholic faith during this unprecedented time.
A moving moment in a new school year
One moment stands out to principal Rusty Albertson since the 450 students of St. Mark the Evangelist School in Indianapolis started the new school year on Aug. 5.
It happened two days later when the 150 students in the sixth-, seventh- and eighth grades—spread out by appropriate social distancing—attended Mass together in the parish church while that celebration of the Eucharist by Father Timothy Wyciskalla was also livestreamed to the other students in their classrooms.
"It was very moving, very emotional because we hadn't had a chance to be at Mass with our students since March 12," Albertson says. "That's why we're here at a Catholic school. Our religious aspect—growing in our faith and drawing close to God—is why we're here."
In the days since then, Albertson says, "It's been a really good start to the school year. But we feel we're living on borrowed time. All administrators and teachers are waiting for the other shoe to fall. We're waiting to see if the numbers [of coronavirus cases] go up in Marion County. But we also can't control that, so we're focusing on what we can control."
Part of that control included all the efforts that were made during the summer to create as safe and as joyful a learning atmosphere as possible for the students.
That effort involved removing all the long tables that had been work stations for the students and replacing them with individual desks that could be spaced 6 feet apart—a process that involved renting two large storage units and making 15 trips to store the tables there.
"We also did e-learning over the summer so the teachers could get to know their kids," the principal says. "We called it 'Virtual Jump Start Camp.' "
The first few weeks of the school year have been focused on assessing the educational levels of the students, including how much their learning may have suffered from the sudden change to e-learning in the spring. Teachers have also been preparing for e-learning if that situation arises again.
"The thing that has impressed me so much about my teachers is their resiliency," Albertson says.
While the school year started with a definite nervousness among students and parents because of the pandemic, Albertson says everyone has "bought into" the school's approach to prevent positive cases of the coronavirus: everyone wearing masks and keeping 6 feet of distance while the students stay in the same classroom, sit in the same seat and eat lunch at their desk.
It's all added up to no positive cases so far, plus one other welcomed reality that Albertson shares with a laugh.
"There's not been one discipline problem. How can you have a discipline problem when you're wearing a mask, you're 6 feet apart, and you're in the same seat?"
A feeling of being 'back home'
Mindy Ernstberger knew she could count on one person in the midst of her concerns and worries about the start of this new school year on Aug. 5 at Our Lady of Providence High School in Clarksville.
"I always pray to our Lady that she will intercede for us and provide what we need," says the principal of the school. "We have had a really good opening. I give her all the credit."
Similar to high schools across the archdiocese, Providence has used a hybrid schedule to open the school year, with its 345 students getting in-class instruction on some days and doing e-learning at home on other days.
"It has worked extremely well so far," she says. "While we have not yet been together 100 % with the student body, I do believe our students still feel they are back home and living in a community of people who care deeply for them. We always say we are one big family."
Ernstberger says she has seen that bond on display when "a few" people tested positive for COVID-19 during the summer and when others have had symptoms during the first weeks of school.
"Most of what we have are people quarantining themselves because they have had some contact with others who are being tested or have tested positive," she says. "Parents and students as well as faculty and staff are really working on behalf of others' health and safety. I am sure we will get our share of cases, but for now I just continue to feel blessed that we are here and looking out for one another."
Providence has started the school year with its usual fall sports schedule, including football, volleyball and soccer—the three sports that have raised the most concern by medical experts in terms of the coronavirus.
"Coaches wanted their teams back, to give everyone a feeling of hope and a return to a team spirit," Ernstberger says. "Our kids love competing, challenging themselves and working in collaboration. There have been a few hiccups, but we opened our competitions [on the weekend of Aug. 14-15], and so far, all is good. I am sure COVID may influence beyond our control sometime this year, but we are happy to be here and participating."
She sees that desire to play as reflecting the hope of the entire student body to have their lives "be normal."
"They recognize that they have a responsibility in our community. They are doing their part."
She also praises the teachers and staff for their attitude in this challenging time.
"There is definitely a feeling that we are in this together, and that our students are too important not to do this right. I know they are exhausted when they leave for the day, but the next morning they are here and figuring it all out again."
Challenges and opportunities
Helen Heckman looks for opportunities in the midst of challenges. She has already found some in a new school year taking place in the shadow of a pandemic.
"I think students and staff will learn a lot during these difficult times," says Heckman, the principal of St. Bartholomew School in Columbus. "We are learning to be resilient, patient, great problem-solvers and thankful for even the little things. How can we possibly complain about that?"
If there are no complaints—and no positive tests so far—she acknowledges there have been challenges since school began on Aug. 6.
"The biggest challenge has been time. It seems that everything takes more time under these new circumstances. Restroom breaks take more time because several classes have to travel further to use assigned restrooms. Even entering and leaving the building takes more time because we are all coming in through one main door and exiting through another.
"Our teachers are also spending more time planning for both in-person and online learning."
And while the required wearing of masks adds a layer of protection, Heckman says it is "more difficult to hear students and understand them when they are talking through a mask."
Yet even with all the challenges, Heckman says the school year has led to a resounding realization.
"We love being part of a Catholic school community once again," she says. "Even with all of these safety measures, the students are happy, and the day seems very 'normal.' Our students and staff have accepted all of these protocols and have been trying to follow them carefully because they want to continue to stay in school for as long as possible."
The "new normal" has also led to opportunities for new relationships. With concerns about keeping a safe distance between people, the school has had to split its usual all-school Mass for its 357 students into two sessions. One has the sixth-, seventh- and eighth-grade students attending noon Mass on Fridays with parishioners.
"This has been a nice experience for our parishioners to see how reverent our middle school students are and how well they participate and plan Masses," Heckman says. "I think some new relationships will be formed through this experience."
She has also noticed "that students really value spending time with their classmates and socializing with them."
"Students have been told that even while outside, if they cannot socially distance, then they need to keep their masks on. If they want to take their masks off, then they need to move apart.
"Students are choosing to keep their masks on because they prefer to play with their friends. That speaks volumes about how much they have missed social interactions and playing with friends."
The perspective of a parent-principal
As a principal, Ed Seib strives to do what's best for the 318 students at Christ the King School. As the father of two children who attend the north side Indianapolis school, Seib also has a special appreciation for parents who are trying to do what's best for their children amid the coronavirus crisis.
"My assistant principal, business manager, secretary, IT manager, grounds supervisor and several teachers are also school parents," Seib says. "So we all have extra motivation to make school as safe as we can. I want my kids to be able to safely see their friends and teachers."
Even as much as the staff prepared this summer, the school's planned start for Aug. 13 had to be moved back a week when the Marion County Health Department issued new guidelines late in the summer that affected Christ the King's middle school students.
Because of those guidelines, the school—for now—has switched to a hybrid system that involves the middle school students being in class some days and doing e-learning at home on other days.
Through all the changes, Seib has tried to follow the school's theme for the year, "Holy, Healthy and Happy."
"I prayed for guidance in realizing what I can and can't control," he says. "We can't control everything, but we can make the best of each day. My hope is to use our theme to guide my daily decision-making."
Some of his decisions have included adding partitions to each desk "so that the students can take off their masks when seated." The school has also added "a new staff member who is responsible for taking care of students with COVID symptoms."
The staff has also prepared a plan for e-learning if schools were to close again.
After a summer of endless planning, Seib was thrilled for the first day of school, a start that came with a higher level of anxiety than any other year, a start buoyed up by the prayers of the parish and its pastor Father Todd Riebe.
"I think more than anything, everyone is ready to be back in school," Seib says. "There is a fear of the unknown, and some of our parents have opted to start the year virtually. As we got closer to our start date, there was some understandable anxiety, especially with our middle school having to switch to a hybrid model.
"Overall, our parents have been patient and supportive. The prayers and support of the community and Father Todd have been invaluable." †